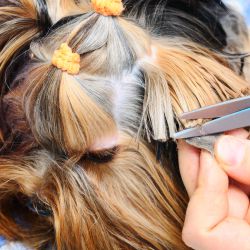 Dog Grooming Services
In Davie, a Mobile Groomer can come straight to your front door to pamper your pooch with affection while they're professionally groomed. Our experienced team can offer bathing, trimming, haircuts, nail clipping, and ear cleanings without the messy, chaotic commute.
Monica's Mobile Grooming can send our modern, fully self-contained spa-on-wheels to Davie for mobile groomer services on a flexible, routine schedule. We never put dogs into cages, leave them alone to dry, or force them into an assembly line for cleaning. Instead, we purposely book one animal at a time and provide them with personalized, individual attention with no interruptions. Our mobile services are safe for pets with medical conditions, too. Call today for your FREE consultation.
Stuffy waiting rooms can be filled with crying cats, barking dogs, loud dryers, and ringing phones. It may not be a comfortable space to wait for your dog. Our Davie mobile groomer won't expose your dog to strangers or unfamiliar, potentially contagious animals. We guarantee your pet's happiness, so get in touch today to learn more. Our secure, clean, and private spa-on-wheels is fully climate controlled, too. Monica's Mobile Grooming delivers a selection of unique grooming packages.
In Raquel's spare time, she volunteers at animal shelters working with local rescue groups to foster and rehabilitate homeless pets to help them get adopted. At home she has her own "four legged" children to help in socializing these foster pets.
Her love of animals large and small shows in the attention she gives to all her clients!