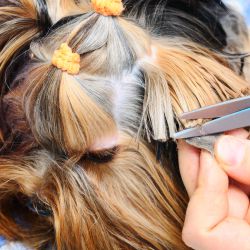 Dog Grooming Services
Pups can relax in Davie, FL, with Dog Groomer services delivered by Monica's Mobile Grooming. Our professional groomers can eliminate the stress and hassle from grooming by delivering our fully equipped and self-contained spa-on-wheels to your home.
Whether you're seeking a simple bathing, mini groom, or full groom from our Davie, FL, dog groomer, our team will ensure that your dog receives our undivided attention from start to finish. Many grooming facilities force pets into a busy, chaotic assembly line for bathing and grooming and then into a cage, alone to dry. This may leave your puppy or old dog feeling nervous, rejected, or overstimulated. Our team will will never do this! We take our time pampering each dog in a calm, private environment so they arrive back in your arms smelling fresh and feeling relaxed.
As a pet owner, grooming day can be a major hassle. It takes valuable time from your day that could be better spent at the comfort of your own home environment. Why wait in a stuffy, busy, or noisy waiting room when you could be accomplishing important tasks at home? Our Davie, FL, dog groomer will bring professional cleaning, bathing, plucking, trimming, and even specialty haircuts to your doorstep at an affordable rate. It's easy to schedule a FREE consultation, so call today!
We are a highly preferred, well-respected Davie FL Dog Groomer
In Raquel's spare time, she volunteers at animal shelters working with local rescue groups to foster and rehabilitate homeless pets to help them get adopted. At home she has her own "four legged" children to help in socializing these foster pets.
Her love of animals large and small shows in the attention she gives to all her clients!