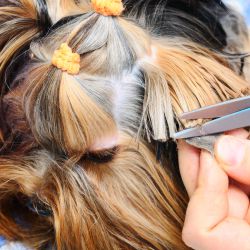 Dog Grooming Services
Davie Mobile Dog Grooming is a most trusting and nurturing experience for your treasured pet when you use the highly regarded Monica's Mobile Grooming. Your pet deserves the best and only we can provide the best. We always puts your pet up on a pedestal. Your pet is 'showered' with personal attention.
Monica's Mobile Grooming, grooms one pet at a time, never leaving that pet alone to feel scared or rejected. We stay by their side throughout the entire length of the grooming treatment. Monica's Mobile Grooming is unlike any other grooming salon or similar facility around. And we are mobile! The primary difference between our Davie Mobile Dog Grooming and our competitors is personal, undivided attention. We give it whereas most do not!
Most grooming salons groom a large volume of pets, mainly at one time, in an assembly line fashion. One-on-one attention is not usually the norm. Pets often get left alone in cages to dry or as others are being groomed. Not only can this cause your beloved pet to become scared and vulnerable, but then add other nervous barking dogs or crying cats, ringing phones and loud dryers to the mix and you have yourself an over-stimulated, frantic pet. Call today; book an appointment with Monica's Mobile Grooming! Avoid the dangers uncaring dog grooming!
Raquel has worked with Monica's Mobile Grooming for several years. She is certified in Pet CPR, certified in Pet Nutrition, Animal Psychology, knowledgeable in Asian Grooming techniques, and keeps up with the ever changing field of grooming by attending grooming conventions.
In Raquel's spare time, she volunteers at animal shelters working with local rescue groups to foster and rehabilitate homeless pets to help them get adopted. At home she has her own "four legged" children to help in socializing these foster pets.
Her love of animals large and small shows in the attention she gives to all her clients!