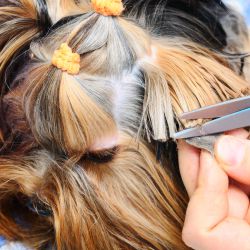 Dog Grooming Services
Davie Grooming should be trusting and caring, even compassionate for the needs of your pet. It should never be about the business and how to benefit it. They should be pet lovers and consider what is best for your pet. And that is Monica's Mobile Grooming philosophy!
If you want what is best for your cat or dog, then you want Monica's Mobile Grooming. Our reputable grooming services requires that your pet is placed on a pedestal, so to speak, showering him or her with love and undivided attention, 2 things that pets yearn for the most. This is the promised experience from the time he or she enters our salon until they leave. Monica's Mobile Grooming, groom one pet at a time, never leaving any pet alone feeling scared or rejected. And always remember: we are mobile, we come to you!
The difference between Monica's Mobile Grooming and other competing Davie Grooming outfits is a simple one: personal attention. We guarantee it, while others just take it for granted. Scheduling a large volume of pets at the same time? Leaving pets alone or in cages while others are tended to? In the end, you get a very over-stimulated, crazed cat or dog. This is no way to conduct a business! And it certainly does not keep good business or generate loyal customers! That is not a grooming experience with Monica's Mobile Grooming; it is not even a thought. Call to schedule an appointment today!
Raquel has worked with Monica's Mobile Grooming for several years. She is certified in Pet CPR, certified in Pet Nutrition, Animal Psychology, knowledgeable in Asian Grooming techniques, and keeps up with the ever changing field of grooming by attending grooming conventions.
In Raquel's spare time, she volunteers at animal shelters working with local rescue groups to foster and rehabilitate homeless pets to help them get adopted. At home she has her own "four legged" children to help in socializing these foster pets.
Her love of animals large and small shows in the attention she gives to all her clients!