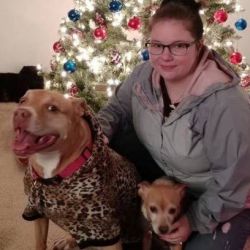 About Brittany
Hailing originally from Seattle WA, Brittany has grown up in the animal service industry. When she was a young child her mother owned a grooming salon that Brittany spent much of her free time.
Brittany always knew she wanted to be in the animal world growing up.
Now she has years of experience behind her, ranging from managing corporate and private salons, even spending some time at veterinary offices.
Brittany's favorite dogs to groom are Standard Poodles or any kind of doodle. Brittany also grooms cats. Brittany made the move to South Florida in January of 2018 to be with her husband Anthony.
They have 2 dogs, Bruce Wayne, a rescue chihuahua mix and Sterling Maverick Archer, a Standard Poodle.
In her spare time Brittany enjoys spending time with friends and family! Let's give Brittany a warm welcome!